CONFERENCE VENUE
Let's meet at the Convention Center of the Hannover Messe fairground

The EQTC 2023 will be held at the Convention Center of the Hannover Messe fairground, which can be conveniently reached from downtown (if you're arriving by train) or the motorway (if you're arriving by car or coming from the airport).
Following your registration, you will receive further logistics and planning information as the event draws nearer to make your experience as smooth as possible.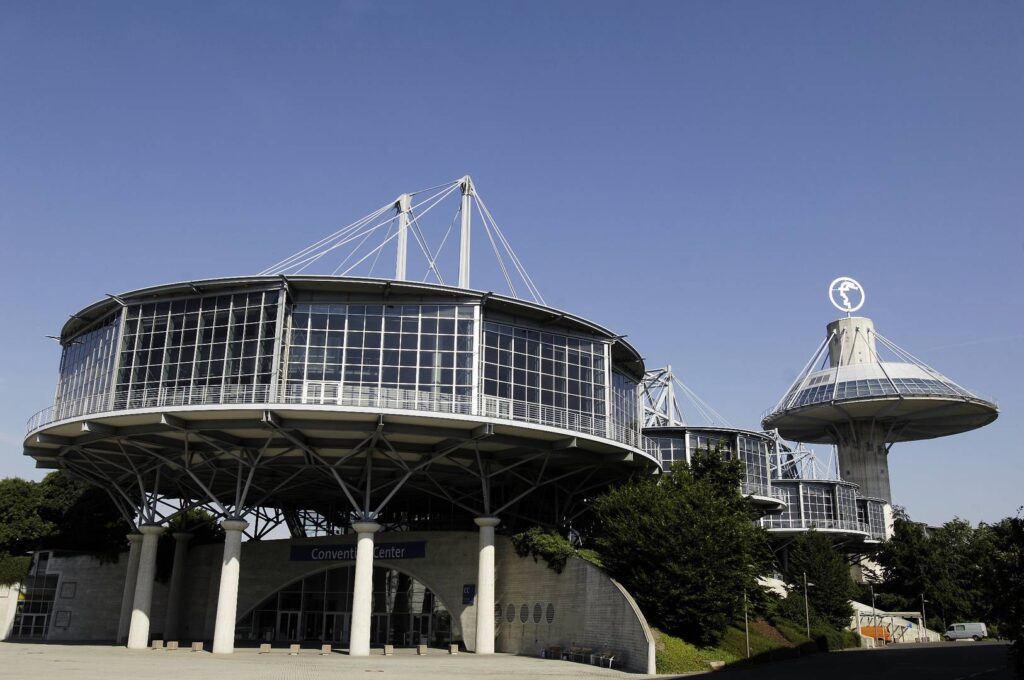 Book your accommodation with special EQTC rates!
Participants of the EQTC 2023 will have the option to choose from a wide variety of hotel accommodations in Hannover. Our partner hotels below are ready to welcome you for the duration of the conference. To make your booking, please select one of our partner hotels via their individual links, and indicate the specific keyword when requested.
Hotel H4 Hannover Messe
Würzburger Str.21
30880 Hannover

16.10. – 20.10.2023
Single rooms 114,00€ incl. Breakfast
Double rooms 134,00€ incl. Breakfast
Available on a first come, first served basis until 4 weeks before arrival

Book your accommodation at the link below (booking code is already included):
https://short.h-hotels.com/ak8076646
www.h-hotels.com
Hotel H+Hannover
Bergstrasse 2
30539 Hannover

16.10. – 20.10.2023
Single rooms 104,00€ incl. Breakfast
Double rooms 124,00€ incl. Breakfast
Available on a first come, first served basis until 4 weeks before arrival.

Book your accommodation at the link below (booking code is already included):
https://short.h-hotels.com/ak8076644
www.h-hotels.com
Kastens Hotel Luisenhof Hannover
Luisenstrasse 1-3
30159 Hannover

16.10. – 20.10.2023
Single rooms 159,00€
Available on a first come, first served basis until 30.06.2023

Book your accommodation via e-mail or phone with the keyword: EQTC 2023
info@kastens-luisenhof.de
www.kastens-luisenhof.de
IntercityHotel Hannover
Rosenstrasse 1
30159 Hannover

16.10. – 20.10.2023
Single rooms 125,00€ incl. Breakfast
Double rooms 157,00€ incl. Breakfast
Available on a first come, first served basis until 02.09.2023

Book your accommodation via the central reservation number:
+49 511 169921 0 and use the keyword EQTC 2023
www.intercityhotel.com
Courtyard by Marriott Hannover Maschsee
Arthur-Menge-Ufer 3
30169 Hannover

16.10.-20.10.2023
159,00€ excl. Breakfast
Available on a first come, first served basis until 24.07.2023

Please make your reservation via email (see below) and use the keyword: EQTC2023
Contact: sales.hannover@baum-hotels.de
www.courtyard.com
Motel One Hannover Oper
Georgstraße 52
30159 Hannover

16.10.-20.10.2023
Single rooms 89,00€
Available on a first come, first served basis until 04.09.2023

Please make your reservation via email (see below) and use the keyword: EQTC2023
Contact: hannover-oper@motel-one.com
www.motel-one.com
Best Western Föhrenhof Hannover
Kirchhorster Str. 22
30659 Hannover

16.10.-20.10.2023
Single room 132,00€ incl. Breakfast
Double room 163,00€ incl. Breakfast
Available on a first come, first served basis until 15.07.2023

Please make your reservation via email (see below) and use the keyword: EQTC2023
Contact: empfang@foehrenhof.bestwestern.de
Phone: +49 511 61 54 0
www.hotel-foehrenhof-hannover.de
Radisson Blue Hannover Expo Plaza
Expo Plaza 5
30539 Hannover

16.10.-20.10.2023
Single and double rooms 169,00€ incl. Breakfast
Available on a first come, first served basis until 15.07.2023

Please make your reservation via email (see below) and use the keyword: EQTC2023
Contact: events.hannover@radissonblu.com
www.radissonhotels.com